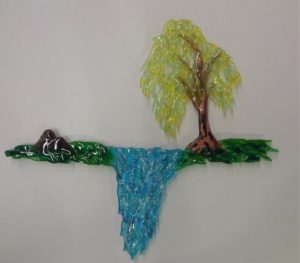 Interested in learning about Kiln-Formed glass? Take a class!!
DUE TO SOCIAL DISTANCING, CLASS SIZE WILL BE LIMITED TO 6 PEOPLE.
Kiln-formed glass or fused glass is a technique that consists of cutting glass into desired shapes, pieces are put together and placed in a kiln, and heated so the glass melts or fuses together. The fusing process takes approximately 14 hours from the time the program starts until the glass is cool enough to handle.  If a bowl or other shape is desired, the original piece is put back in the kiln, then fired a second time over an object (usually stainless steel or ceramic forms) letting the glass relax into or over the mold. This is called slumping or draping.
All projects are ready for pick up 1-3 days after class.
For safety reasons, closed toed shoes must be worn during class.
To reserve your space please call Wandering Oaks Gallery at 360-788-5454, come by the Gallery at 126 W. Holly St., or use the PayPal button below.
Gift Certificates
Not sure what to get a friend or family member? A gift certificate will have you covered. Gift certificates can be used for classes or artwork.
Fusing Outside the Mold - July 24th
Each student will work on their own individual glass project(s). Classes are typically 3-4 hours of instruction and hands-on work. Cost includes all materials needed for the project and a 10 inch by 10 inch space in the kiln for one firing. Additional firings and sheets of glass can be purchased separately.
Time: 12 - 4pm
Price: $80
Birds - August 7th
Each student will have the opportunity to create two birds from a rainbow of colors and decorating choices. Class price includes glass, materials, instruction and one firing.
Time: 11 - 3pm
Price: $50
Sun Catchers - August 14th
Each student will have the opportunity to create two Sun Catchers from a rainbow of colors. Sun Catchers can safely hang outdoors year round or brighten an indoor window. Class price includes glass, materials, instruction and one firing.
Time: 11 - 3pm
Price: $50
Pocket Vases - August 21st
Each student will have the opportunity to create a hanging art piece with a small pocket to hold water and flowers. There is a rainbow selection of glass and infinite ideas for designs. Class price includes glass, materials, instruction and one firing.
Time: 11 - 3pm
Price: $50
Fusing Outside the Mold - August 28th
Each student will work on their own individual glass project(s). Classes are typically 3-4 hours of instruction and hands-on work. Cost includes all materials needed for the project and a 10 inch by 10 inch space in the kiln for one firing. Additional firings and sheets of glass can be purchased separately.
Time: 12 - 4pm
Price: $80